MOBILE
Oppo Reno3 Pro 5G appears in live images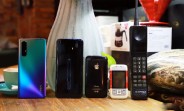 Oppo will introduce the Reno3 lineup on December 26 and we already have seen a lot of press renders and other official images of the Reno3 Pro device, expected to have 5G.
Up until now, we didn't have live shots of the device, but thanks to a Chinese blogger, we finally got to see the Reno3 Pro in real life.
The Oppo Reno3 Pro has the Oppo Reno2, iPhone 3GS, Nokia 5300, and the old-timey Motorola 888 that is so old, even we don't have it in our database.
The blogger compared the devices and how they got thinner with time, with the Motorola being 50 mm, then the Nokia getting down…