IT News
IDC: Wearables market grows 21%, thanks to new products
Global shipments of wearable devices were 32 million in Q3 2018, according to IDC. They were 21.7% more than the same period last year, thanks to new products from all major companies – Fitbit, Garmin, Huawei. Another driving factor was the growing demand for basic devices like smart bands that have an increasing number of features blurring the separation line from smartwatches.
Company
Q3 2018 shipments
(in million)
Q3 2018
Market share
Q3 2017 shipments
(in million)
Q3 2017
Market share
Yearly Growth
Xiaomi
6.9
21.5%
3.6
13.7%
90.9%
Apple
4.2
13.1%
2.7
10.3%
54.0%
Fitbit
3.5
10.9%
3.6
13.7%
-3.1%
Huawei
1.9
5.9%
1.6
6.0%
20.3%
Samsung
1.8
5.6%
0.9
3.6%
91.0%
Others
13.7
43.0%
13.8
52.7%
-0.8%
Total
32.0
100.0%
26.3
100.0%
21.7%
Xiaomi grabbed the top position thanks to the massively successful Mi Band 3, which we reviewed two weeks ago. The company usually sells over 80% of its products on the domestic market, but now only 61% of them were placed in China, the rest were all over the world – India, Europe, Middle East, Africa.
Apple also posted a massive increase from 2.7 million to 4.2 million shipments. The Series 4 Watch launch surely helped, but another major contributor were older wearables that got the latest Watch OS, making them more desirable for a bunch of users.
Fitbit, just like Apple, is trying to bank on the healthcare market, that is separating another niche the wearable brands aim to conquer. Jitesh Ubrani, senior research analyst for IDC, said that we should expect heavy regulation and greater scrutiny, meaning off-value brands will unlikely mix up the waters, letting market leaders cementing their lead.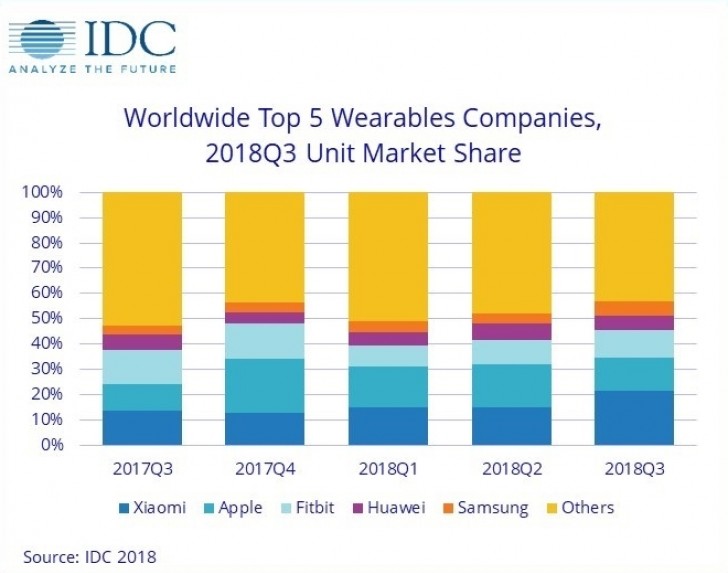 Samsung and Huawei also increased their shipments, with the Korean manufacturer managing to sell twice the number of devices it did in Q3 2017. The company relies not only on the new Galaxy Watch products but also on the still reliable Gear S3 and Gear Sport products, that are more than 12 months old.
IDC said the stage is set for a strong holiday quarter when you combine the growing premium market in the United States with the increased demand for low cost options in emerging markets.